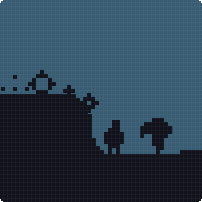 Today's Pixel Love game is Prophet created by Danil Zhuravlev.
This one will have you utilizing wall jumps in order to access high shelf platforms.
The art style has got a very clean low-definition look and feel. The tutorialized early levels are not too easy and do a great job introducing you to the gameplay elements fast.
Have fun Nitromians, we'll bring you more pixel love next week!