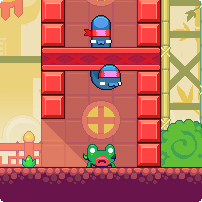 Hey Nitromians,
We have been treating you to a lot of previews this week. So to follow suit, here is a one of Green Ninja: Year of the frog! still in production right now. More info on this game in the coming weeks.
Click here to see two more polished screenshots from the game.
Those jelly bean ninjas sure are messing with the wrong frog! HWAAAAAAAAAAA...